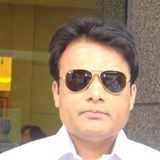 Rohit Jain
Rishabh Metals – Manufacturer of commercial hotel kitchen equipment in India
Mr. Rohit Jain, a visionary Manufacturer, founded Rishabh Metals in 2003. Despite lowly beginnings, dreams and actions enabled him to advance to the position of leadership. Rishabh brand built display and kitchen equipment on the characteristics of elegance, practicality, and sustainability, with a strong focus on bringing innovation to the food and beverage industry. Today, the Rishabh brand has the largest market share in India's display and culinary equipment industries, and its goods are made in accordance with ISO 9001:2015 standards & CE certified standards. A state-of-the-art manufacturing plant with cutting-edge technology and contemporary machines has been opened in Jodhpur, covering a massive area. Skilled and experienced personnel handle and monitor every part of the manufacturing process. All of these factors have combined to enable Rishabh to satisfactorily fulfil the diverse demands of over 3200 consumers.
Rishabh Metals is in a unique position to develop creative and customised solutions for commercial kitchen and bakery setup needs. From concept to implementation, we are taking care of all of your kitchen and bakery equipment needs and offering services such as consulting, project design, project execution, and support.
Rishabh Metals has over 18 years of experience in commercial kitchen equipment, display equipment, kitchen ventilation systems, and gas banks. We are a manufacturer of stainless steel commercial kitchen equipment for hotel kitchens, hospital kitchens, industrial kitchen equipment, educational kitchens, resort kitchens and sweets, bakery and gelato display counters.
With no standard guidelines in the field of commercial kitchen equipment in India, we at Rishabh Metals, with ISO 9001:2015 and CE certification, have developed an expanded range of products that can cater to the varying needs of Kitchen Professionals based on the stated standard and our philosophy of high quality and superior design standards. Rishabh can supply entire kitchen solutions for both micro and large-scale kitchens. Our main pillars, namely our technical staff and engineers, are the glue that holds our organisation and product together as we strive for greater quality, success, and customer pleasure.
Through years of experience and will, we have energetically dwarfed food preservation methodology and the art of food presentation. From the analysis of the location to the delivery of the finished product and the subsequent maintenance service, we focus our efforts and energies on achieving optimal customer pleasure. In addition, we are committed to overcoming your backend operations with our carefully crafted kitchen equipment, consisting of a burner stove, double boiler, dish cart, masala cart, sink unit, storage shelf, work table, sweet & bakery display counter, salad counters, gelato display counters, commercial refrigerators & water coolers.